Brushwood Rose, C. & Camilleri, A. (Eds.). (2002)
Vancouver, BC: Arsenal Pulp Press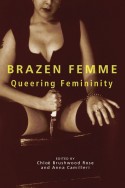 Finalist for the 2002 Lambda Literary Award, Brazen Femme: Queering Femininity is a manifesto for the unrepentant bitch, straddling the furious and fantastic. Undeniably celebratory and deeply troubling, this sharp-edged collection (of fiction, prose poetry, personal essay, photographs, and illustration) figures femme experience emerging in performance, betrayal, violence, humour, and survival. Brazen Femme recognizes femme as an identity in flux and in motion, as constantly being reinvented. This mutability sets the stage for creative and thoughtful representation featuring critically acclaimed writers including Camilla Gibb, Sky Gilbert, Michelle Tea, Amber Hollibaugh, and Anurima Banerji. Brazen Femme unapologetically refuses explanations and definitions while bringing into view femme identity through description, reflection, and interpretation. As such, the collection includes the entertaining and challenging work of writers and artists whose stories are missing from existing explorations of femme that exclude experiences of men, transsexual women, and sex workers.
Reviews
"A bold, groundbreaking collection on the nature of femmes and femme identity."
—Lambda Book Report
"Within these angry, defiant, brave and at times, heartbreaking pieces . . . lie some essential truths about gender, about being both queer and feminine."
—Herizons
"A gritty anthology that questions the nature of femininity itself."
—Toronto Star
"Brazen Femme is a brave and necessary book, written with honor and longing and truth. And much like strutting around in a pair of stiletto pumps or lacing on a skin-tight merry-widow, it leaves the kind of impression that is well worth some minor discomfort."
—Books in Canada